Stallion Mustang Gold Family Off Road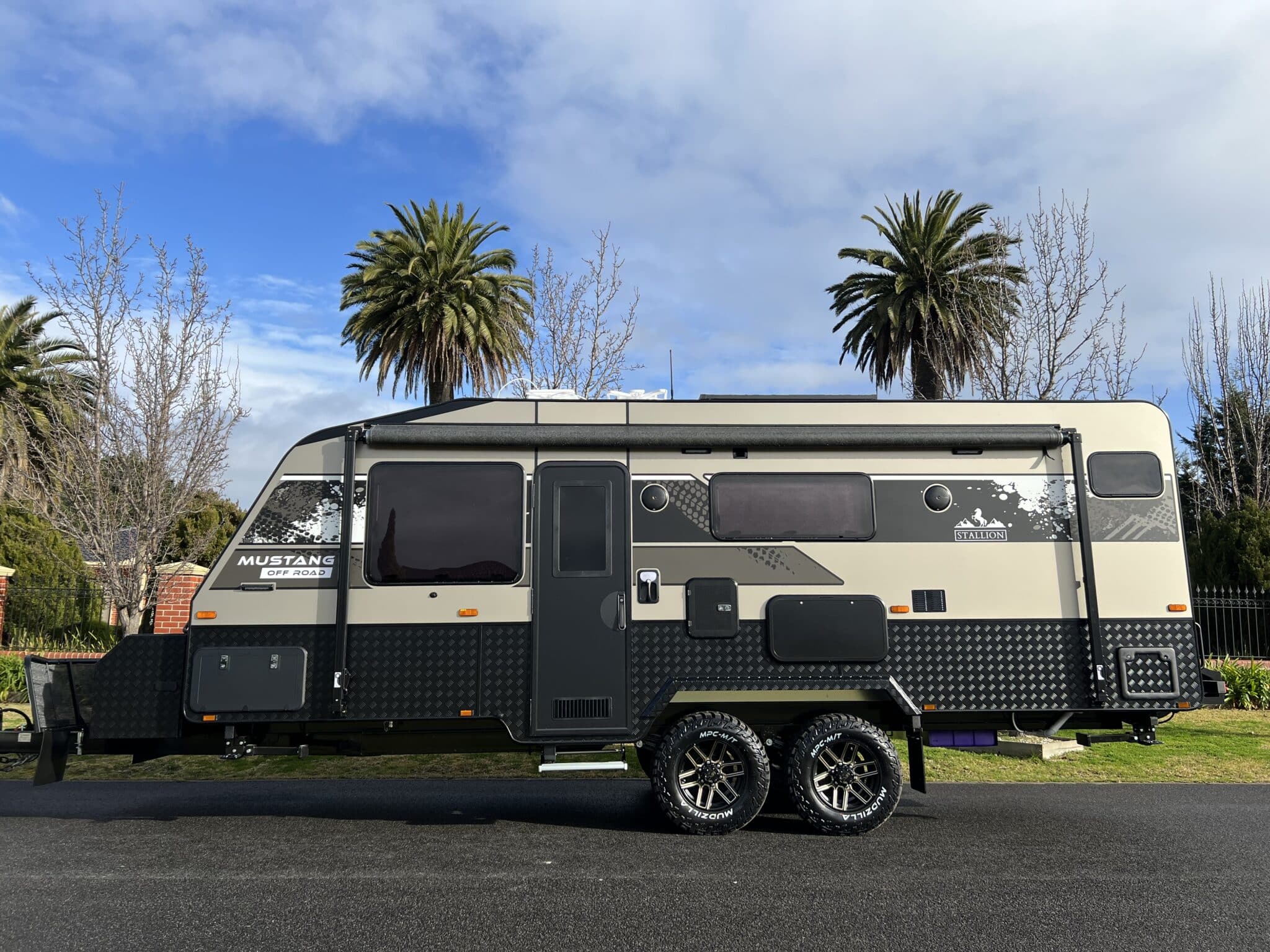 2022 Stallion Mustang Gold Family 21.6 ft Off Road 5 berth shower and toilet triple bunk caravan
With great excitement we are introducing our new head turning well equipped Stallion Mustang Gold edition
Take your family camping ANYWHERE in comfort and style with this Gold edition van.
Made in Australia with 25 years of manufacturing experience.
Attention to detail and high priority with Stallion caravans.
Loaded with features to make the caravan holiday experience fun and easy.
Very practical floor plan with stylish colour scheme.
Upgraded top of the range Euro 2 flat Aussie Traveller tinted windows
Upgraded with massive tool box that accommodates gas bottles
Upgraded Gold MPC off road wheels
Upgraded with Alko ESC
Upgraded with 4x 170 watt solar
Upgraded with 40 amp Power Science solar controller
Upgraded with slim line light weight 3x 135 amp LIFEPO Lan plus Lithium batteries
Upgraded BMPRO plus 35-II-HA charger and digital tablet screen
Upgraded with BMPRO 3000 watt inverter
Upgraded with mini boost
Upgraded with Fogati Instant hot water service
Upgraded with full CNC ABS Board furniture
Upgraded with 5x Sirocco fans
Upgraded with stone guard protector
Upgraded with quality mattress with bolster
Upgraded with flood lights all round including 14' light bars at front and back
Upgraded with double electric step
CHASSIS
Alko Enduro X Full Off-road independent suspension
Extended drawer bar with a massive tool box a with 2x huge slide out sections
Tough 6'' Chassis and A – Frame
Do-35 hitch
Tare Weight – 2840 kgs
ATM – 3500 kgs
GTM – 3240 kgs
Ball load – 260 kgs
16''mag wheels
EXTERNAL
One Piece Roof
One Piece Floor
CNC Frame with Pro Com Aluminium cladding (German made)
2x jerry can holders
2x normal water tanks
1x grey water waste tank
Illuminated strong grab handle
Roll out awning
1x Drop down picnic table
Full Insulation
2x led light roof hatches
Huge Front Tunnel Boot with lights
External entertainment box with TV, 240v, 12V connections
2x External speakers
Gas Bayonet Fitting
External Shower
Jack
APPLIANCES
Thetford 175 litre compressor fridge freezer
3.5 litre Front loader Destination RV washing machine
Combined Flick mixer tap and Filtered water tap
Thetford 4 Gas cook top and griller
12v LED Rangehood
25 Litre NCE Microwave
NCE Bluetooth sound system – with great speakers inside and out
Winegard digital Aerial
Great TelAir high power air-conditioning and heating unit
3 way flick mixer with water filter
Thetford 260 series toilet
Very large fully enclosed shower
INTERNAL
6'2" Queen innerspring mattress with on slatted bed base with under bed storage
2x wardrobes with shelves
Pigeon holes with handy access USB 12volt and 240 power
3x large bunks 1850mm x 680mm with 12volt and 240 power access
Slide out pantry
Telescopic drop down table to make another large single bed if needed
Stylish Large L-Shape lounge with fold up foot rest
Plush OHC cupboards with gas struts
24inch TV with adjustable Swingarm with 12V & 240v, Antenna Connection
Self closing drawers
LED Hatches
LED step light
Upgraded door curtain block out
ELECTRICAL
Remote mains power switch
BMPRO Battery Pus35-II-HA Lithium electrical management system
BMPRO Odyssey Link 103
BMPRO Smart connect digital screen
Upgraded to 4 x 170 w solar panel and 3 x 135 amp LITHIUM batteries
Reverse camera with monitor
Illuminated Large Roof vents
LED ceiling lighting
Anderson Plug
Brake Safe
Water pump
Separate Fresh Water tank Gauge indicators
Black reading lights with USB access
Winegard TV aeriel
MEASUREMENTS
21.6 ft van
9100mm overall length from front hitch to rear of spare wheel
3100MM TOTAL HEIGHT
7.75 ft wide
Trade-Ins welcome, Delivery and Finance Available.
Located in Hillside, Melbourne
Call today, to arrange an inspection 0430104446
Shower: Yes
Toilet: Yes
Air Conditioning: Yes
Fridge: Thetford 175 litre compressor fridge freezer
Oven:Thetford 4 Gas cook top and griller
Stereo: Yes
TV: Yes
Annex: No
Cabin Length: 21.6ft
Overall Length: 9100mm
Overall Height: 3100mm
Suspension: Alko Enduro X Full Off-road independent suspension
Brakes: Electric
Tow Ball Weight: 260kg
Axle Configuration: Double
Tare: 2840kg
ATM: 3500kg
Registration:
______________________________
COVID-19 Safety Precautions
The health and wellbeing of our clients is our main priority.
To ensure we're all doing our part to prevent the spread of COVID-19 we are adhering to the following Safety Precautions.
1. We request that your hands are sanitised before & after we meet for inspection.
2. Adhere to 1.5m social distancing when an inspection takes place.
3. Our caravans are kept clean and sanitised.
4. We are happy to offer a video inspection on request
5. We can offer contactless delivery
6. We accommodate for cashless deposits and payments
7. Finance can be organised via phone, emails etc.