Great Alpine Bright Semi Off Road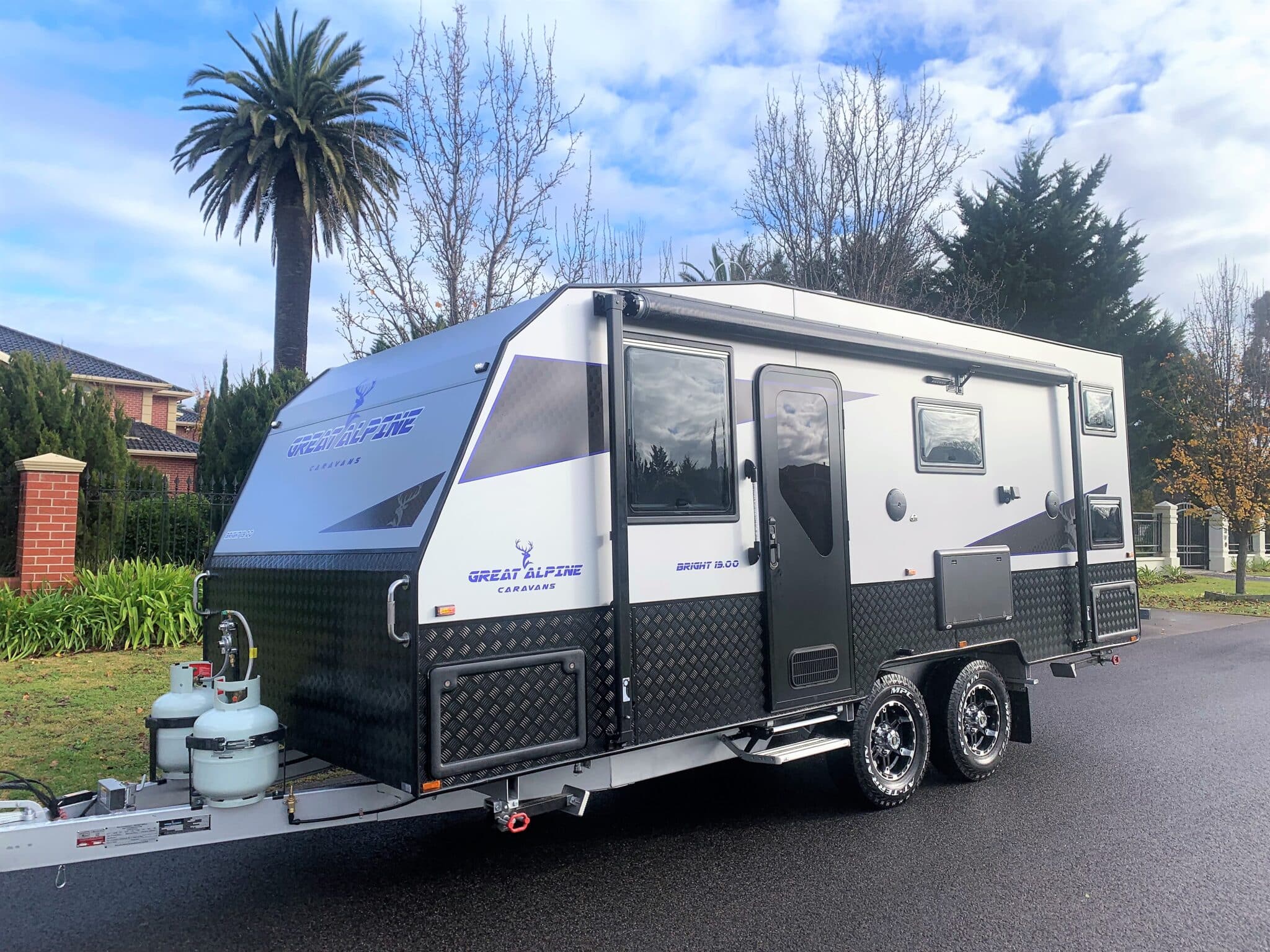 Great Alpine Semi Off Road 19ft Family Double Bunk with Full Ensuite
Quality Built in Melbourne with a superior finish inside and out and problem free travelling.
Loaded with goodies
Tough exterior with higher than standard aluminium checker plate protection.
Great colour scheme with new modern look interior with upgraded bulkheads.
CHASSIS AND EXTERNAL
6'' Chassis
6" A – Frame
Tare – 2140kg
ATM – 2540kg
Tow Ball -160  kg
Roller rocker suspension with 2'' raiser
15 inch Wheels
Spare Wheel on rear bumper bar
Reverse camera
2 x 95L Fresh Water Tanks
1 X Grey Water Tank
2 x 9kg Gas Bottles
2x 170w Solar panels
Great battery charger with 2 X underslung 120 amp batteries
One Piece Fibreglass Roof
Pull out step
Electric Brakes
2x 12 volt LED illuminated hatches 450mm x 400mm
Illuminated Drop down picnic table
Roll-Out Awning
Full tunnel boot with 2 x access doors and led lighting
External shower
2x External Speakers
External tap on a frame
LED entrance Grab Handle
Antenna Tek digital antenna
LED External lights
External entertainment box with TV, 240v, 12V connections
Full Insulation
Gas Bayonet
12 pin car plug
Safety Breakaway system
Tinted windows with two way flyscreen / privacy blinds
Ample external lighting
APPLIANCES AND INTERNAL
Full Swift 3x gas and 1x electric burner and griller
Touch control 12v Rangehood
NCE Microwave
Thetford 175ltr 12V compression Fridge
TV on swivel arm
Aircon – heating
DVD/CD/RADIO player
Swift 27 Ltr electric and gas hot water service
Queen mattress
2x Wardrobes
2x bunks 1870mm x 660mm with magazine pouch and usb ports in all bunks
Lounge
Flick mixer tap
Large Shower
Large Toilet
Ceramic Ensuite basin
12V water pump
Internal LED lights
Water tank gauges
Extra Tough flooring
MEASUREMENTS
19 ft van
24 ft overall length from hitch to rear of spare wheels
7.75 ft wide
3000mm total height
Trade-Ins accepted, Can Delivery Australia wide and Finance Available.
Located in Hillside, Melbourne (20 minutes from Melbourne airport)
Call us today, to arrange an inspection 0430104446
Shower: Yes
Toilet: Yes
Air Conditioning: Yes
Fridge: Elevated Thetford 150 ltr 3 way Fridge
Oven:Full Swift 3x gas and 1x electric burner and griller
Stereo: Yes
TV: Yes
Annex: No
Cabin Length: 19ft
Overall Length: 24ft
Overall Height: 3000mm
Suspension: Rollerrocker
Brakes: Electric
Tow Ball Weight: 160kg
Axle Configuration: double
Tare: 2140kg
ATM: 2540kg
Registration:
______________________________
COVID-19 Safety Precautions
The health and wellbeing of our clients is our main priority.
To ensure we're all doing our part to prevent the spread of COVID-19 we are adhering to the following Safety Precautions.
1. We request that your hands are sanitised before & after we meet for inspection.
2. Adhere to 1.5m social distancing when an inspection takes place.
3. Our caravans are kept clean and sanitised.
4. We are happy to offer a video inspection on request
5. We can offer contactless delivery
6. We accommodate for cashless deposits and payments
7. Finance can be organised via phone, emails etc.